Robert Clark Kedzie
1823-1902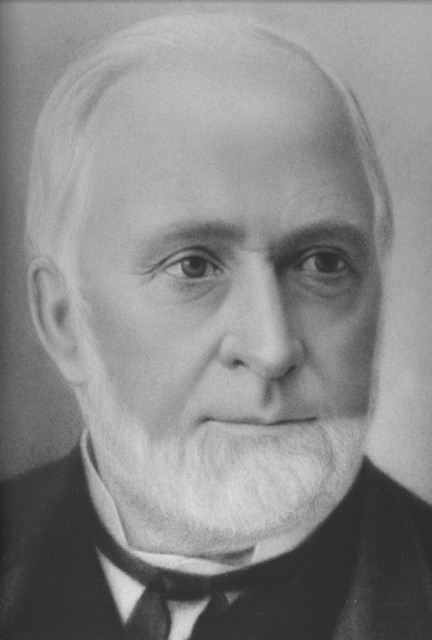 After an undergraduate chemistry major at Oberlin College (Ohio) and an M.D. degree in the first graduating class of the University of Michigan medical school (1851), Kedzie practiced medicine for 11 years. He was a surgeon during the Civil War, wounded at Shiloh, invalided home, and at age 40 (1863) began to teach chemistry at the Agricultural College of the State of Michigan, (now Michigan State University, where he remained until his retirement and death in 1902. He was said to deliver clear, forceful lectures with frequent demonstrations.
Kedzie was a prolific writer of popular and technical articles on chemistry, agriculture and public health. As a member of the first State Board of Health (MI) he campaigned to remove Paris green (a toxic pigment made from arsenic trioxide and copper acetate) as a colorant in wallpapers, to have accurate analyses of fertilizers, soils and water for the benefit of Michigan's farmers, and to ensure the safety of kerosene, used at that time for lamps. Kedzie wrote a Handbook for Qualitative Chemical Analysis (1883). His three sons, William K., Robert F. and Frank S., all became chemistry professors at Kansas State, Mississippi State and Michigan State respectively.
Kedzie was known for wearing a Prince Albert coat, seen in this portrait. The Kedzie Chemical Laboratory at Michigan State University, occupied by the chemistry department from 1928-1964, was named after R. C. Kedzie and/or his son Frank S. Kedzie.
Sponsor: MSU Office of Libraries, Computing and Technology
---
Location in chemistry building:
First Floor; West Wing North Wall; Sequence 4
Source:
Found in storage at MSU and restored