Cisplatin Celebration & Cancer Research Symposium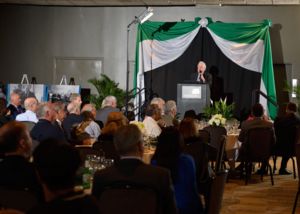 Barney Rosenberg. Kind. Heroes. Serendipity. Fantastic. These were the words that kept coming up during the 40th Anniversary Cisplatin Celebration and Cancer Research Symposium, held Aug. 3-4 on the Michigan State University campus.
The event marked the 40th anniversary of the FDA's 1978 approval of the anti-cancer drug cisplatin. It was in the mid-1960s that MSU biophysicist Barnett Rosenberg, colleague Loretta Van Camp and then-graduate student Thomas Krigas, discovered the cancer-fighting properties of platinum that led to the development of the chemotherapy drug.
The two-day celebration, which drew 200 attendees, opened on Aug. 3 with an evening reception and poster session in the Chemistry Building. Attendees were also given the opportunity to tour the lab where the anti-cancer properties of cisplatin were discovered by Rosenberg and his team. An all-day cancer research symposium, reception and dinner were held at the Kellogg Hotel and Conference Center on Aug. 4.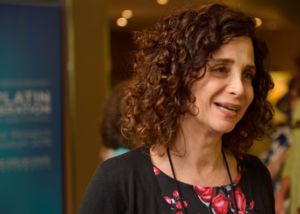 Tina Rosenberg, Barnett Rosenberg's daughter, was on hand for the event.
"It's been fascinating," said Rosenberg, a Pulitzer Prize–winning author and journalist who lives in New York. "I grew up, of course, around cisplatin. But I never knew the details. So it's been wonderful to hear, step-by-step, how this happened—to hear the presentations from all the people who have participated."
Speakers at the symposium included the many individuals who had a part in the development of the two anti-cancer drugs: Hilary Calvert, University College London; Michael J. Cleare, Skysong Innovations; Matthew Hall, National Institutes of Health; James D. Hoeschele, Eastern Michigan University; Stephen J. Lippard, Massachusetts Institute of Technology; Bernhard Lippert, Technische Universität Dortmund; Sophia Lunt, MSU; Anna Moore, MSU; Franco Muggia, M.D., New York University; and Jetze Tepe, MSU. The speakers at a Saturday dinner were John Cleland, the first patient cured by cisplatin; and Lawrence H. Einhorn, M.D., Cleland's physician.
"Forty years ago we never thought 40 years ahead to something like this," Cleland said. "I was the first successful patient using cisplatin. I'd been fighting the disease for 10 months prior to that, and cisplatin was my fourth different protocol of chemotherapy. I weighed 106 pounds at the time; I was fighting day-to-day to stay alive."
Fifteen of Rosenberg's former students were in attendance. One of them was Samir Mansy, of Cincinnati, Ohio, now retired from the U.S. Army Corps of Engineers. Mansy came to MSU from Egypt in 1966 with a master's degree in chemistry.
"When I became aware of what Barney was doing with platinum complexes I got very interested in his research. I went to ask him if I could join him, and he was kind enough to take me," said Mansy, who worked in Rosenberg's lab for two years as a Ph.D. student, and one year as a postdoc. He said he had kept in touch with Rosenberg after receiving his Ph.D. in biophysics in 1972.
He gives a lot of the credit to Barnett Rosenberg for where he is today in his life, both professionally and personally.
"It's a great feeling to be here today; I haven't been back since I left in 1973." Mansy added. "When I came back for this symposium, I felt 'I'm home.' This is a great university, great people, it's fantastic. Honestly, I felt like I came home."
The only element missing from the event was Barney Rosenberg's presence. He retired from MSU in 1997, and died in 2009 at the age of 82.
"This is a great event," said Larry Brace, another of Rosenberg's former students. "Barney would have been overwhelmed."
Cisplatin and carboplatin's impact goes far beyond treating millions of cancer patients and prolonging lives. It's also fueling the discovery of new drugs, enabling cutting-edge agricultural research and providing venture capital to budding entrepreneurs.
Although many of the attendees referred to those who developed cisplatin and carboplatin as the heroes, one of the speakers said: "The patients are the heroes."
Barney Rosenberg would most likely agree.
"The highlight of the day for me was hearing my dad's students talk about him as a boss and mentor—how he encouraged his students to run with their own ideas, and that he was generous with credit," Tina Rosenberg said. "That's a side of him that, as his daughter, I never could have seen.
"It's very rare that I meet people who knew who my father was," she continued. "But when I do, they often have a story about a family member—or themselves—being cured by cisplatin or carboplatin. I'm so proud of my father. So proud."