Crushing Cholera: Promising results for new, longer lasting vaccine
Cholera is a diarrheal illness caused by the highly transmissible bacteria V. cholerae which still infects two to three million people a year and kills tens of thousands annually. It is endemic in more than 50 countries. Oral vaccines on the market today last roughly two to five years and are not very effective in young children, a demographic particularly at risk of infection.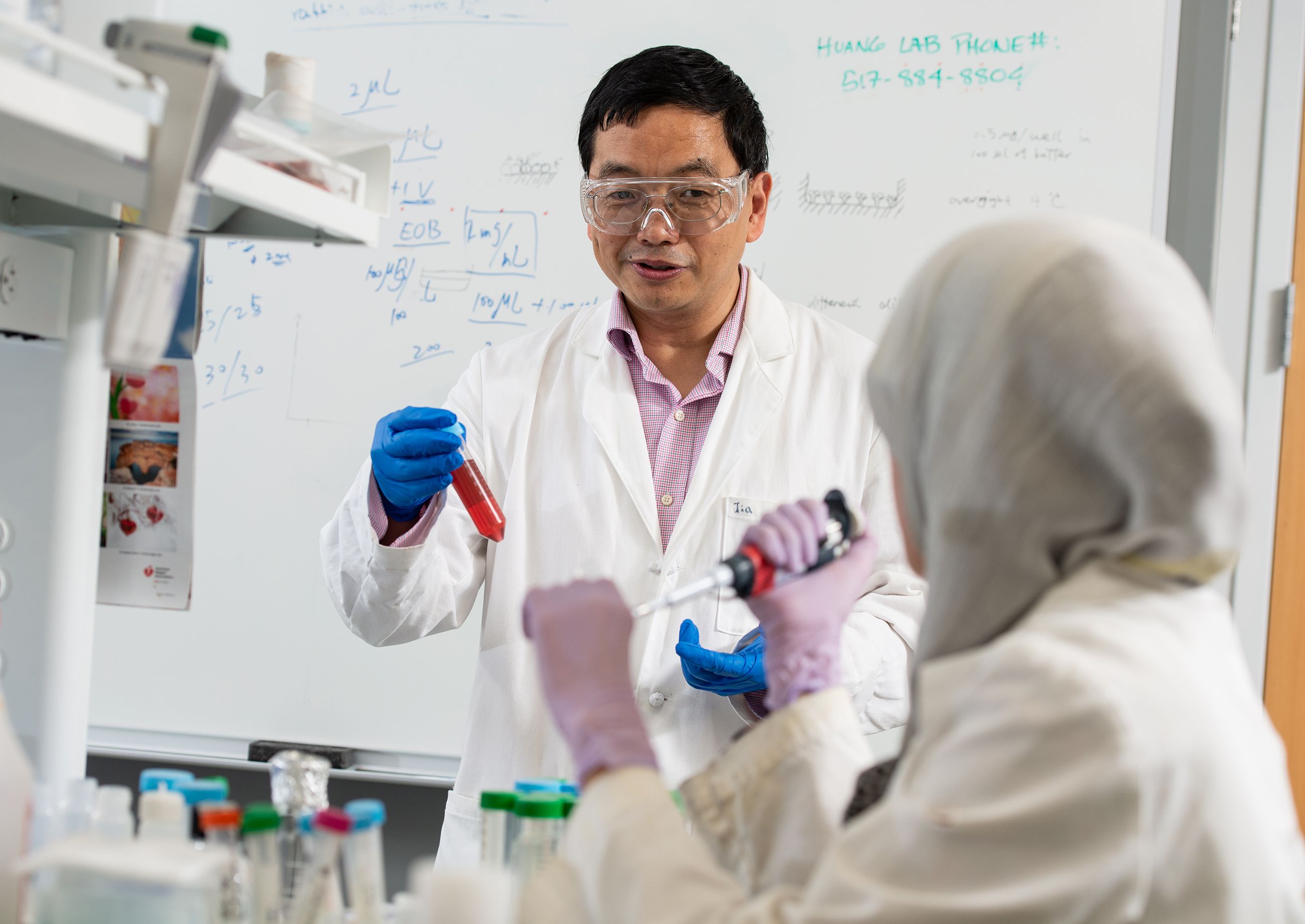 In a paper recently published in the American Chemical Society (ACS) journal Infectious Diseases, Michigan State University chemist Xuefei Huang, former MSU Ph.D. student Zahra Rashidijahanabad and their international team announced promising test results for a new, longer lasting cholera vaccine.
"ACS is one of the most trusted and read journals in our field," said Rashidijahanabad, who now works at ThermoFisher Scientific. "I hope that this study will be reviewed by our peers and will lead to the development of more effective vaccines against cholera."
Over the past 20 years, the Huang Group has focused on finding new methods to boost immune responses to vaccines. In the last decade, they have been working on a new technology platform that uses a new antigen carrier. A carrier delivers the antigen, or foreign substance that can generate an immune response, to the patient. Huang group found that by attaching the carbohydrate antigen O-specific polysaccharide (OSP) from cholera bacteria to virus-like particles called Qβ, they can get a very strong and long-lasting immune response.
"One reason this carrier may be more potent than other carriers is its well-organized spherical shape; its highly ordered structure makes it more effective in boosting antibody responses," said Huang, an MSU Foundation Professor and associate chair for research in the Department of Chemistry in the College of Natural Science, and a Biomedical Engineering faculty member in the College of Engineering. "We thought our new technology could be used to tackle the major public health problem of cholera."
Two years ago, Rashidijahanabad, Huang and their team set out to develop a more effective cholera vaccine with longer lasting immunity. They approached two other labs—Dr. Peng Xu's lab at the National Institutes of Health (NIH) and Dr. Edward Ryan's lab at Harvard Medical School/Massachusetts General Hospital (MGH). These cholera vaccine experts were eager to join forces in hopes of finding a better solution to this awful disease.
Instead of using killed or weakened V. cholerae as other vaccines have done, Huang's team used their new technology and linked multiple copies of OSP to Qβ. After the antibodies of recovering cholera patients recognized the OSP- Qβ, Rashidijahanabad immunized mice and analyzed the results of both immunized and non-immunized mice.
Testing on mice showed similar promise. After three doses of the vaccine, mice had strong antibodies lasting 265 days. They also found success with a booster after 265 days. Using mice about half the age they typically use helped determine that the vaccine would be effective in younger children. The platform also has been shown to activate helper T cells, cells important to activating the immune systems of younger children.
This vaccine is still in the early stages of development; typical vaccines take about 10 years or longer to complete. If the vaccine is successful in clinical trials on humans, it will need FDA approval to be commercialized by the pharmaceutical industry.