Tepe Research Group
Jetze J. Tepe, Ph.D.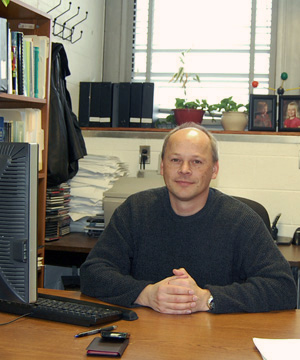 Professor of Chemistry
Department of Chemistry
Michigan State University
East Lansing, MI 48824
Tel: 517-353-0497
Ph.D., University of Virginia, 1997
Post-doctoral, Colorado State University, 2000
Total Synthesis of Natural Products
Marine sponge metabolites represent a highly diverse and structurally complex natural library of compounds with remarkable biological and medicinal properties. Students in the group will develop novel heterocyclic methodologies that enable the efficient synthesis of natural products.
Chemical Biology
The structural diversity of marine sponge metabolites makes them ideal as tools to discover novel targets and mechanisms. The main cellular target of interest is the "proteasome". In our chemical biology lab, students will unravel the biological properties of marine sponge metabolites and determine their use as therapeutic leads or biochemical tools.
Medicinal Chemistry
Our lab develops new chemical methodologies to mimic the diverse structural features found in natural products with the goal to capture their unique biological properties in drug-like scaffolds. Students in the lab with synthesize and test the new scaffolds to optimize the natural product mimics for potency, target selectivity, ADME, PK and PD properties. Current programs are focused on novel therapeutics for multiple myeloma, neurodegenerative diseases, and tuberculosis.