NatSci's Basso, McCusker invested as MSU Foundation Professors
Release Date: Apr 29, 2018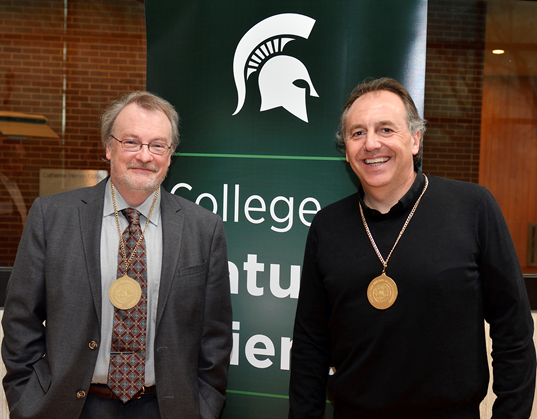 Two Michigan State University College of Natural Science (NatSci) faculty members, Bruno Basso and James K. McCusker, were honored as MSU Foundation Professors on April 24 at an investiture ceremony held at MSU's Wharton Center.
The professorships, established in 2014, are part of an initiative to attract and retain highly successful faculty members. Each of the recipients receives five years of supplemental research support and holds the MSU Foundation Professor designation permanently.
"NatSci is proud to have two of our most distinguished faculty members honored as MSU Foundation Professors," said Cheryl Sisk, Nat Sci interim dean. "The global impact of Basso's and McCusker's research is a testament to the top-tier faculty we have in the college and speaks to why MSU is considered one of the top 100 research universities in the world."
Basso, a professor in the Department of Earth and Environmental Sciences, and an MSU AgBioResearch scientist, integrates diverse disciplines such as biophysics, climatology, hydrology, genetics, agronomy and soil science to understand the spatial and temporal variability of crop yield and environmental outcomes in agricultural systems. With a focus on sustainable row crop production, Basso is harnessing advanced UAV (unmanned aerial vehicle) technology and predictive process-based models to quantify the impact of current and future climate, soil, genetics and management practices on crop yield and ecosystem services. He is also a faculty member of MSU's W.K. Kellogg Biological Station.
Basso received his Laurea in agricultural sciences from the University of Naples Federico II, Italy, and his Ph.D. in crop and soil sciences from MSU. Basso spent 12 years as a professor at the University of Basilicata, Italy, before returning to MSU in 2012. He is a fellow of the Soil Science Society of America and the American Society of Agronomy. He received an MSU Innovation of the Year award in 2016, which led to the commercialization of some aspects of his research and the foundation of a start-up company, CiBO Technologies.
He currently leads a multimillion-dollar project funded by the USDA-NIFA on digital agriculture and the implementation of climate-water-nutrient smart technologies, and is also working with the Food and Agriculture Organization of the United Nations to develop a crop yield forecasting system for Tanzania.
"Being an MSU Foundation Professor is certainly something that I did not expect, and I am extremely happy about it; I feel privileged," Basso said. "I work hard to make an impact with my research, and I see this distinguished recognition as a starting point rather than a finish line. I am grateful to MSU and to the MSU Foundation and feel blessed to work with a tremendous group of colleagues and students. It is special to be an MSU professor, a true Spartan and—as an agricultural scientist—to help increase productivity, profitability and environmental integrity."
McCusker, a professor of chemistry, is an internationally renowned physical-inorganic chemist. His research focuses on ultrafast excited-state dynamics of transition metal compounds, particularly how they relate to the development of solar energy conversion strategies based on earth-abundant materials. His research group also studies the photophysical properties of molecules and their innate spin properties in order to forge a link between magnetism and electron and energy transfer processes.
McCusker earned his Ph.D. in chemistry from the University of Illinois at Urbana-Champaign. He then served as a National Institutes of Health Postdoctoral Fellow at the University of North Carolina at Chapel Hill from 1992-94. He was a Hellman Faculty Fellow (1997-98) and an Alfred P. Sloan Fellow (1998-2000) as an assistant professor at the University of California, Berkeley, before joining the MSU faculty in 2001. He was named a Fellow of the Royal Society of Chemistry in 2016 and was awarded MSU's William J. Beal Outstanding Faculty Award in 2018. He is currently associate editor of the journal Chemical Science and president of the Inter-American Photochemical Society.
"When the chair of my department—Professor Robert Maleczka—told me that he, former Dean Jim Kirkpatrick and Vice President Steve Hsu had decided to nominate me as an MSU Foundation Professor, I was at a loss for words," McCusker said. "I've dedicated the majority of my professional career to Michigan State, and although I do work hard at my job, there is no doubt I've received far more than I have given in terms of the interactions I've had with colleagues and students in the 17+ years I've been at MSU. It's an honor that I accept with a great sense of appreciation for the Department of Chemistry, the College of Natural Science and the MSU Foundation."
Basso and McCusker bring the total number of faculty members to be named MSU Foundation Professors over the past five years (2014-2018) to 31, and NatSci's total to 22—71 percent of all MSU Foundation Professors at MSU.