Chemistry Professor Demir's Article in Chem Honored on the Cover
Release Date: Apr 12, 2022
Chemistry Professor Selvan Demir's recent article was not only accepted by the flagship chemistry journal of Cell Press, Chem, but also featured on the Cover. The Demir Group specializes in organometallic chemistry of the lanthanides, actinides, and bismuth with an emphasis on synthesis, reactivity, spectroscopy, and magnetism.
The cover illustrates key features of the article in three components representing synthesis, structure, and magnetism:
A purple tube pours crystalline material into a green cauldron.
First organometallic lanthanide bismuth cluster complexes: The core of each molecule is a heterometallocubane of six bismuth (purple) and two lanthanide (green) ions sandwiched between hydrocarbon rings (silver). At the center is a unique, 6-fold negatively charged bismuth chair.
The bismuth chair promotes magnetic superexchange between the lanthanide ions yielding single-molecule magnets which is showcased by the silver rectangular bar magnet with corresponding magnetic field lines depicted as gray loops.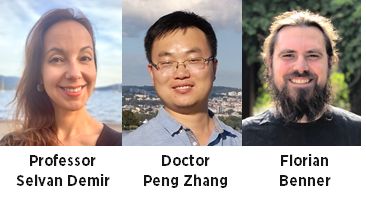 This discovery introduces bismuth into the design handbook for single-molecule magnets and gives rise to new prospects in synthetic chemistry and physics.